Frequently asked questions
Specifications
---
Hand crafted from tough, black polycarbonate
Buffed finish feels and looks like fine hardwood
Approx. 680mm/26.75" x 370g/13oz
Potential hunting range is approx. 65 meters for skilled throwers.
Total range is approx. 70-90 meters / 76-98 yards (individual results may vary)
Stable, forgiving platform
Enhanced durability even beyond our other models due to centered mass distribution.
Mid sized tapered grip for fast, snappy release
Pinched tips offer comfortable grips with historic, semi-pointed ends
Beautiful incised upper surfaces in our own take on an ancient style
Symmetrical airfoil feels light in hand for the amount of weight being thrown
Available right handed. (Left handed has been discontinued due to difficulty of tuning. For left handed see our Karli Model.
---
Description
---
This pinched tip design is a classic tribute to the legends of ages gone by. The Whale's Tail is not just a gorgeous piece of functional art - it's a serious hunting throwstick designed for straight flights out to at least 70 meters - 90 meters. The centered weight distribution allows for this larger stick to be handled with greater ease, making this model great for beginners. Historically this shape was chosen because it enhanced durability, which was important with hardwoods. This is still true in our modern design and so this is our top pick for a longer ranged stick that will be used in environments where it may encounter and strike a lot of trees. See the video review in our reviews section below for more on the durability of the Whale's Tail. If you're in the forest and want something that should do well, this is our top pick. The S. Queensland, NW NSW style boomerangs are among the most beautiful in history. They were high performing as well and featured numerous incised designs carved on their upper surfaces. They were commonly finished dark with charcoal grease and often featured pinched tips. This one is our own design and features a single ribbon carved in the shape of three whale's tails on the upper surface. This is a beautiful stick to throw and it looks fantastic on the wall as well. The buffed finish on dark faux hardwood feels and looks like a fine piece of genuine old world craftsmanship, making this perhaps our most beautiful model. Also available in buffed black finish. ​
---
Reviews
---
Just received the Whale's Tail kylie today. Absolutely beautiful, a perfect companion piece to the Wedge War Club. I haven't had a chance to throw it yet, but I think it's potential as a close quarters weapon is completely undersold. I'm not sure if you're familiar with Bhata Uisce Beatha (Irish Whiskey Stick Dancing), but this throwstick is a natural for that method of fighting. It's essentially boxing using the the tips of a short stick as the contact point rather than the fist. It's also eerily similar to FMA stick techniques in further applications. A fascinating and and brutally effective martial art. Seriously, the Whale's tail gives the Wedge some serious competition for space in my bug out bag. I'm probably going to just include both since they both seem to have so much to offer. And I haven't even thrown it yet! Anyway, I'm already excited about the "whale's" potential. Keep the throwsticks coming, trying to decide between them is a fun problem to have. I actually hadn't thought about Bhata Uisce Beatha in a while, thanks for reminding me. I think I'm going to need a bigger bug out bag. Lest you get the wrong idea, I'm no black belt badass, merely an enthusiastic student. You make top quality stuff, it's a great value for the price. Thanks, I appreciate your craftsmanship. Expect more orders from me in the future. Justin C. (Kentucky, United States) __________________________________________________________ I recently purchased every item on the Throwsticks.com product range and couldn't be any happier. Ben and Carol were both a pleasure to deal and made everything very easy for the delivery of my order to Australia. The products themselves are exceptional in quality and craftsmanship and very professionally made. They all perform exactly as they were intended and I have had many enjoyable hours of throwing with many more to come!

- Malachi Conway @ RockyInstincts (Queensland, Australia) _____________________________________________________________ Adam Celadin Whale's Tail Destruction and Durability Test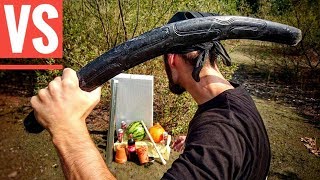 ___________________________________________________ Hello Ben, Got the Whales Tail. Beautiful! It is going to look good hanging on my wall. I also like the way it hits hard when thrown. I am tempted to highlight the incised lines with either red or dirty yellow ocher like some aborigines did. You do good work! Thanks! Regards, Marc A. (Louisiana, United States) _____________________________________________________ Great tool, tough, very aerodynamic! Fun all around and I'll be buying another model soon to try out. Thanks! - Viking (Canada) _____________________________________________________
---
---
PHOTO GUIDELINES - TIPS FROM OUR PHOTO GEEKS
We use the exact photos you provide to create your Morph Me Photo.
Image quality dictates how well your final product will look. We can remove things such as red eye but we cannot close an open mouth.
Any photos that do not follow our guidelines may not produce the desired results. If this is the case, we cannot offer any replacements so please make sure you take a good photo.
If your photo does not meet the guidelines, we will still try our best and create a quality Morph Me. Please note, this is not guaranteed to produce a result as good as the website shows.
While we do our best to review each photo, its not always possible during high volume periods. This is why it is crucial that you provide a high quality photo from the outset.
Ensure good lighting, natural light always results in the best photos

Get down to eye level with your child before taking photo

Try to capture an image with your child looking straight at the camera

Get a closeup head and shoulders photograph on a plain background (against a white wall would be great)

Do not upload blurred photos

Bad lighting makes for bad Morph Me Photos.